Preparing for Conception Amulet (A)
$20.00
This selection has been created to provide comfort and support while preparing to conceive.
2 in stock
Description
These crystal selections have been specifically chosen to support with fertility or infertility issues, especially emotionally. Amulets are a wonderful and thoughtful gift. We suggest that in deciding which pack best suits your needs you select that which your are most drawn to instinctively when looking at the photos below. 
Rose Quartz (pale pink stone)
Increases fertility. It also enhances the sense of love and well being both within and without. It creates a loving environment for your baby
Green Calcite (pale green stone)
Helps to clear old energies and cleanse toxins from the body in order to attain and sustain health and well being. This prepares the body for healthy conception.
Smoky Quartz (clear stone with smoky tinge)
Superb antidote to stress. Assists in tolerating difficult times with equanimity, fortifying resolve. Brings a positive vibration to a space. Relives fear, brings emotional calmness. Manifests your dreams. Gently dissolves negative emotions. Aids in acceptance of the physical body. Neutralizes fear of failure. Alleviates communication difficulties.
Moonstone (creamy coloured stone)
Offers deep emotional healing. It balances the female energies and is excellent for conception, pregnancy and childbirth.
Rhodonite (darker pink with black patches)
Emotional balancer that nurtures love. Heals emotional shock, lending a supportive energy to the soul during this process. Clears away emotional wounds and scars from the past. Stimulates fertility. Imbues the body with sense of love and well being.
Tektite (black nobbly stone)
This stone can be programmed to bring your baby to you. It has long been believed to be a fertility talisman on all levels.
These beautiful gemstones come presented in a pouch, perfect for popping in your purse. Details of each crystal are included along with comprehensive instructions about how best to use and care for your amulet.  
Please note the photo shown is not of the actual amulet you will receive, it will be similar but the sizes and shapes of the crystals and minerals will vary slightly from that shown.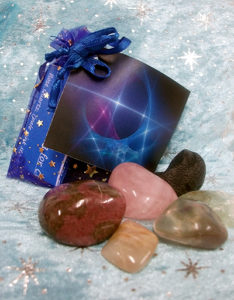 Additional information
| | |
| --- | --- |
| Weight | 45 g |
| Dimensions | 7 x 2 x 9.5 cm |