Lansinoh Nipple Cream
$16.90 – $27.90
For Breastfeeding Mothers: Soothes, Heals and Protects Sore Nipples
Description
For Breastfeeding Mothers: Soothes, Heals and Protects Sore Nipples
100% ultra pure lanolin – completely natural
Does not have to be removed before feeding
Clinically proven to accelerate healing
Recommended by breastfeeding specialists
About Lansinoh (Lan-sin-oh)
Lansinoh was developed jointly by breastfeeding and skin specialists to meet the special needs of breastfeeding mothers. Created by an exclusive process to remove environmental impurities, pesticide residues, detergents and allergens, Lansinoh is ultra pure. Here are the reasons why lactation experts around the world recommend Lansinoh:
► No need to remove prior to breastfeeding.
► Natural – similar to the body`s own oil.
► Hypoallergenic – lanolin of this purity has been shown to have an allergic reaction rate of zero per cent.
► Clinically proven to accelerate healing.
► Provides soothing relief of pain from the first application.
► Well absorbed and does not clog pores or milk ducts.
► Has little taste or odour to bother the baby.
► Lansinoh has proven effectiveness, backed by extensive clinical and laboratory testing.
How to use Lansinoh
If you have sore nipples, Lansinoh can provide soothing relief, protection and healing. Apply over the whole area of sore or damaged skin after every feed and as needed. Cracked nipples need a thick layer of Lansinoh for maximum benefit from moist wound healing. You may wish to wear nursing pads to protect your clothes. Some mothers like to spread a drop of hind milk on the nipple and allow it to soak in before applying the Lansinoh. As it is well absorbed and ultra pure, Lansinoh does not need to be removed before breastfeeding. To protect your nipples, you can also apply Lansinoh before showering. If the problem persists, consult a breastfeeding specialist. During pregnancy, Lansinoh may also be used to condition the nipples by applying twice daily to ease dryness and promote healthy, supple skin. Lansinoh is naturally viscous. In colder conditions knead the tube a little, or warm it in your hands for easier dispensing.
Lansinoh is hypoallergenic, ultra pure, anhydrous lanolin (USP Modified Lanolin).

Available in 50g and 15g tubes.

This is a personal care item and should be used by one individual only.
Warning: Keep the tube out of reach of children – the cap may be a choking hazard.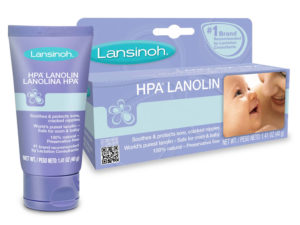 Additional information
| | |
| --- | --- |
| Weight | N/A |
| Dimensions | N/A |
| Size | 15g, 50g |