Description
Are you sick of trying to read your basal thermometer on those dark mornings?
Well we have the answer for you. After years of searching for an accurate basal thermometer with great features of our popular Baby4You  basal thermometer we have finally found the answer.
This stylish basal incorporates the following functions:-
Blue backlight with large LCD monitor making it easy to read on those dark winter mornings or for early    starts.
Digital time, date and alarm feature. Allows you to set an alarm to wake up in the morning and to view the time.
60 temperature readings – the memories contain Temperature, Date and Time.
High Accuracy ±0.05°C/0.09°F
Handling & Light Weight
Repeatedly beeps 3 times when the test is completed.
Alarm: repeatedly beeps 10 times if measured temperature is higher than 37.50°C or 97.70°F
Automatic switch-off
What is Basal Body Temperature (BBT)?
A basal temperature is the normal body temperature of a healthy person at rest. For optimum accuracy, your basal temperature should be taken at the same time every morning upon waking. Changes in basal temperature are related to changes in the female reproductive cycle. By taking your basal temperature daily and charting it, you can notice slight changes and patterns. Charting of your basal temperature, in addition to other information, can help you understand your menstrual cycle and ovulation. Temperatures typically rise (about 1.0ºF or 0.6ºC) within a day or so after ovulation, and are the result of heat-inducing hormone, progesterone. Recording and interpreting basal temperature changes are called the "Basal Temperature Method" (BTM).
The Basal Temperature Method can be used to help in family planning. Charting of temperature and prediction of ovulation can be used to time sexual intercourse during fertile days to aid in increasing the likelihood of pregnancy
How to get the most accurate BBT?
To Measure your BBT, first you need an accurate Basal Thermometer. After waking (and not getting up), put the basal thermometer under your tongue, close your mouth tightly and wait 2-3 minutes to get the temperature result.
Why do you need to take BBT for such a long time?
Most of the digital thermometers including infrared thermometers will give a fast measurement using a calculation method which is not the most accurate measure
This Digital Basal Thermometer has a high accuracy temperature sensor which detects the temperature in the mouth in a step by step process. After it reads the peak value it will wait 10 seconds to confirm that it is the peak temperature before finishing the measurement and beeping.
How to monitor your Ovulation Cycle?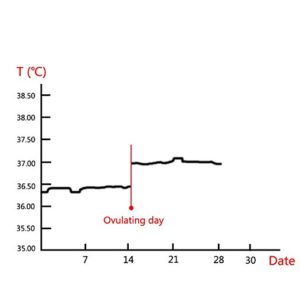 Recall the memories from the thermometer.
Mark it on the Ovulation Chart according to the memory which contains temperature and date.
Draw the chart for at least 30 days to get your ovulation chart