Angel Talk Fetal Heart Beat Monitor
$55.00
Latest model fetal Doppler
Out of stock
Description
Now you can share in the excitement of listening to their baby's heartbeat at home between midwives visits, capture those precious sounds for prosperity or share your pregnancy experience with distant friends and loved ones. Using the recording cable provided you can easily record your baby's heartbeat onto your computer, save it to disk or email it to friends and family.
Using the Doppler Effect at extremely low power the Angeltalk allows you to hear and monitor your unborn babies heartbeat and movements from as early as twelve weeks.
Developed specifically for the home user, the AngelTalk has a modern, compact design featuring a cute heart shaped light indicator which emits a soft heart shaped glow on the front when turned on. Comes with smaller easy fit earphones.
Eye Catching Colour Choices
Your choice of two eye catching bright colours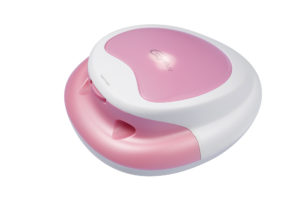 Peace of Mind Guarantee
All Angel Sounds Doppler's come with a six month manufacturers replacement guarantee. Should you Doppler develop a fault simply contact us and we will arrange for its return, assessment, repair or replacement. Please not it is not our policy to offer refunds on defective items.
Technical Specifications
Operating mode: Continuous Doppler
Frequency: 3.0 + 10% MHz
Acoustic intensity: 10mW/cm2 SPTA
Peak Negative Pressure: 1 Mpa
Output beam intensity 20 mW/cm2
Certifications: CE, ROHS
3.5mm Earphone Jack
3.5 Audio-line Recording
Volume Control
Power Source: 1x 9V Battery
Safety Considerations
The Angeltalk is easy to use and complies with all applicable European standards. As required by NZ legislation we have successfully completed all the necessary notifications required with Medsafe Ministry of Health to allow us to legitimately and safely distribute this medical device (WAND notification reference: 091110-WAND-67TUHQ).
As with all medical devices it is important that you read the instructions and use only as directed. Whilst there is no scientific research available to suggest that ultrasound is unsafe. In 2002, the British Medical Ultrasound Society issued a statement confirming that there has never been any evidence of harm resulting from the use of ultrasound in pregnancy. However, the technology behind ultrasound scanning is complicated, and it's important to remember that this research was based on the work of health professionals who have training and guidance for its use. While there is no evidence as yet that Doppler's are harmful in any way, there is also no research available to show the effects of a mother using a Doppler to listen to her baby two or three times a day throughout pregnancy. Therefore, we recommend that if you wish to ear on the side of caution that you do not use this device more than once or twice a day and no more than 1 – 2 minutes at a time.
If you are at all concerned about using a fetal Doppler we would recommend that you consult with your doctor or midwife prior to purchase as they will able to advise you regarding the pros and con's of Doppler usage.
Fetal Doppler heartbeat monitors are diagnostic devices and should not replace consultation with a medical professional, professional monitoring and attention during pregnancy. If you have any concerns regarding your own or your babies health during pregnancy you should speak with your medical professional immediately.
.
Additional information
| | |
| --- | --- |
| Weight | 204 g |
| Dimensions | 10.8 x 6.8 x 13.8 cm |