Conception and Pregnancy Amulet (C)
$20.00
This selection has been created to provide comfort and support while preparing to conceive and in early pregnancy
2 in stock
Description
Thoughtfully put together by a respected natural healer these crystal selections are specifically created to provide comfort and support while preparing to conceive and in early pregnancy. In choosing which pack best suits your needs we suggest you choose that which you are most instinctively drawn to when looking at the photograph below.  
Rose Quartz (pale pink stone)
ncreases fertility. It also enhances sense of love and well being both within and without. It creates a loving environment for your baby
Green Calcite (pale green stone)
Helps to clear old energies and cleanse toxins from the body in order to attain and sustain health and well being. THis prepares the body for a healthy conception.
Carnelian (orange stone)
Influences the female reproductive organs and increases fertility. It is also said to aid in prevention of miscarriage. Helps to open and align the Sacral chakra and improve the conditions for fertility to occur.
Moonstone (white stone with darker marks)
Offers deep emotional healing. It balances the female energies and is excellent for conception, pregnancy and childbirth.
Amethyst (purple stones)
A powerful and protective stone. Strong healing and cleansing powers. It boosts the production of hormones. It calms the mind and promotes emotional centering. Dispels fear and anxiety. Brings a sense of serenity.
Unikite (pink and green stone)
Treats the reproductive system, aids healthy pregnancy.
These beautiful gemstones come presented in a pouch, perfect for popping in your purse. Details of each crystal are included along with comprehensive instructions about how best to use and care for your amulet.  
Please note the photo shown is not of the actual amulet you will receive, it will be similar but the sizes and shapes of the crystals and minerals will vary slightly from that shown.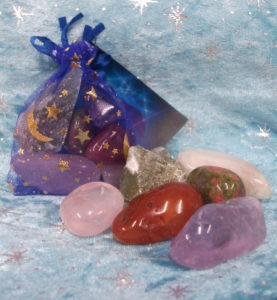 Additional information
| | |
| --- | --- |
| Weight | 45 g |
| Dimensions | 7 x 2 x 9.5 cm |
Related products